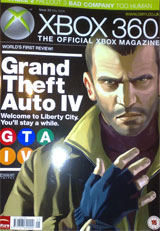 OXM is available in the UK
Official Xbox Magazine is the first magazine to review Grand Theft Auto IV. Subscribers in the UK began receiving their issues today.
The verdict from OXM is:
Amazingly realistic world.
Stunning action set pieces.
Genuinely engrossing storyline.
Hugely entertaining multiplayer.
Vast in every respect.
...and the final score given by OXM is 10 out of 10.
So there you have it. There's a whole bunch of new screenshots including HUD shots, so be sure to pick up this issue if you can find it in your area.
Thanks to gizzuk for the info.