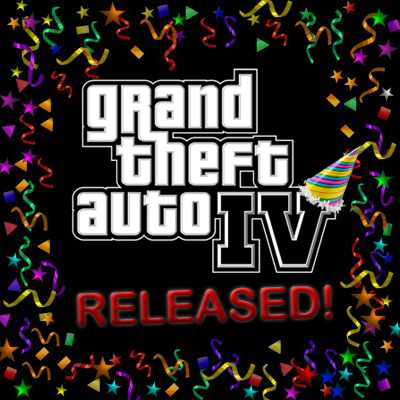 Grand Theft Auto IV. GTA IV. GTA4. Whatever you want to call it, the facts remain the same: Rockstar's latest entry into the Grand Theft Auto family is a total success, walking away with perfect (and slightly-below-perfect) scores across the board. And if you don't believe the scores, guess what? You can now play the game! Folks in the UK, Europe and Australia can now rush out and pick up Grand Theft Auto IV from their local retailers, and North American residents will be able to do the same in a few hours from now. (This means, of course, that you can finally stop picking through all of the little preview details and enjoy the Grand Theft Auto IV experience for yourself.)
While everyone else is taking a break from the daily grind to prep themselves for GTA IV, we here at the GTA Network are going into overdrive. We're going to jump right into post-launch mode as soon as we get our own grubby little fingers on the game, ensuring that we continue to deliver the best quality of Grand Theft Auto IV content that you can find. (We're also hard at work on wrapping up our GTA4.NET redesign, so you have that to look forward to as well.)
While we understand that you may want to keep yourself away from the sites and forums for a while -- spoilers are no fun, after all -- don't forget to check back in with us for in-depth Grand Theft Auto IV coverage in the weeks, and months, to come. The game may be out, but we're just getting started!
So, on behalf of all of the staff of the GTA Network, I'd like to offer our sincerest thanks to all of you for checking in with us on a (very) regular basis. Thanks to Rockstar Games, as well, for raising the bar (yet again!) when it comes to the complete gaming experience.
With all of that said and done -- we'll see you in Liberty City. Cheers!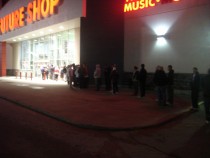 UPDATE: Residents of North America are starting to swarm to their nearest gaming retailer to pick up their copies of Grand Theft Auto IV. I hit up the local Future Shop here in Kingston, Ontario at approximately 10:00pm -- a solid two hours before the midnight release -- to ensure that I had a spot in line. To my great surprise, not only was I the first one in line, but I was joined by some friends from college as well as a few individuals who had discovered GTA4.NET earlier in the day. A big shout to Hammy, as per his request, for recognizing the Rockstar satchel and actually knowing who I was. (Yes, Hammy, I am from Kingston!)
Cheers to everyone, and I hope you enjoy the game. As for me? I'll be preoccupied for the next few hours... or days. See you in game!