Social Club Update - The Millionaires Club Launch
Posted by adamcs at 19:08. Site: GTA IV. Category: General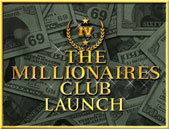 Rockstar Games today launched the Millionaires Club - "recognizing and celebrating all of the wealthy seven–figure Grand Theft Auto IV players at the Rockstar Games Social Club." Millionaire status is determined by totaling all of the money you've ever earned in single–player–mode from completing missions, winning races, doing vigilante side–jobs, and fortuitously picking up 'dropped' money in the street.
If you would like to see just how rich your fellow Millionaires are, you can mouse over each for a quick glimpse of their lifetime single–player money earned. With three leaderboards ranked by who's become a Millionaire first, who's done it quickest, and who is the richest in the City.
And also coming soon to Social Club... the Viral Infection "zombie feature." Sounds interesting, more info coming soon we're told.
Link: Rockstar Games: Social Club