The Lost and Damned, Out Now on Xbox Live
Posted by adamcs at 12:15. Site: GTA IV. Category: General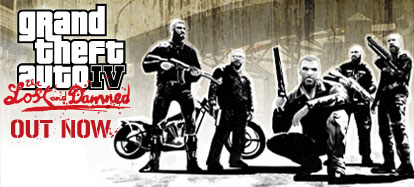 The Lost and Damned is now available for $19.99 / 1600 Microsoft Points at Xbox Live Marketplace. You can also purchase it from the Marketplace website and have it ready and waiting for you the next time you go online with your Xbox 360. The download weighs 1.78GB.
"We're thrilled to finally share the first downloadable episode of Grand Theft Auto IV. This vast and entirely unique first episode is packed to the brim with action, pushing the definition of downloadable content to its very limit."


- Sam Houser, Founder of Rockstar Games.
Related Link: Take-Two Press Release.