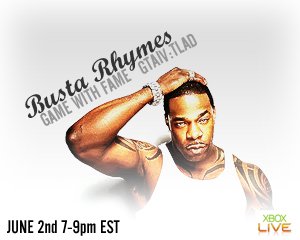 As part of their GTA IV: The Lost and Damned Weekend (running this weekend, June 5th - June 7th) Rockstar are offering fans the opportunity to play online with Busta Rhymes. Log on to Xbox LIVE tomorrow (Tuesday, June 2nd) between 7:00 and 9:00 PM EST, and look for the gamertag BustaRhymes GWF (note the space between BustaRhymes and GWF).
You can hear some of Busta's tracks on the in-game radio station, The Beat 102.7. You can also hear him phone in as a special guest caller on Funkmaster Flex's in-game radio show, and hear Flex spin his new single "Respect My Conglomerate." Busta also appears on DJ Green Lantern's in-game radio show with his original song produced exclusively for Grand Theft Auto IV, "Where's My Money."
In addition, Rockstar are offering players the chance to win a selection of prizes as part of the event. Anyone who downloads the free Lost and Damned Registration Gamer Picture and then either plays a GTA IV multiplayer session or downloads GTA IV: TLAD on Xbox LIVE will be automatically entered to win a Grand Prize entertainment system worth over $3,100 or a range of other prizes including Best Buy gift cards, Microsoft Points and free Xbox LIVE Subscriptions. More details here.
Source: Official GTA IV Website