On Tuesday, USA Today posted an exclusive first look at The Ballad of Gay Tony, and now they have an interview with Rockstar's vice president for creative development, Dan Houser.
In the interview, Dan tells us that the new episode starts about half of the way through Grand Theft Auto IV and part of the way through The Lost and Damned, and finishes near the end of GTA IV.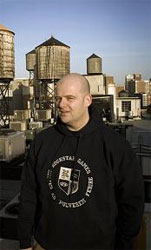 Dan Houser
"The game starts with an interesting revelation that I'll leave out for now, cause it's quite a good little sort of start in terms of the story cross-over stuff. But essentially, Luis is working for Tony as his bodyguard/right-hand man/the manager of his nightclub empire (and) the senior guy there, while Tony is spiraling back out of control with drugs, painkillers in particular and a little bit of cocaine. His boyfriend is a drug-dealing idiot and he's hanging around with a bunch of assorted younger cokeheads and partiers. The kind of people one finds when one spends far too long in night clubs. And consequently, they are getting more and more into debt."

- Dan Houser, Rockstar Games
Read the full interview over at USA Today, it's well worth the read.
Related Link: GTAForums Topic