Dan Houser confirms that a new Grand Theft Auto will be made
Posted by adamcs at 12:33. Site: GTA V. Category: General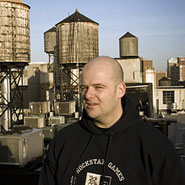 Rockstar's Dan Houser.
Dan Houser — one of the "big three" behind the Grand Theft Auto franchise, along with brother Sam Houser and GTA producer Leslie Benzies — recently sat down for an interview with The Times.
It's a rare glimpse into the life and opinions of an individual who usually does his best to avoid the spotlight (a subject that also comes up during the interview), so take a few moments to go through it - it's an excellent read.
Houser confirmed that a new Grand Theft Auto will be made at some point. "We'll think of a city first, then the characters," said Houser. Of course, this is hardly groundbreaking news. The likelihood of an upcoming GTA sequel not being in production is very, very slim.