While we have seen many overly positive previews so far, GTA IV certainly can't be perfect -- no game is. Luckily there are still some journalists out there who dare to have a slightly critical look at R*'s latest piece. Two of those are IGN's Patch Kolan and Cam Shea, who review the game's multiplayer component in Good Cop, Bad Cop style.
Amongst the things they aren't too happy about are clumsy camera controls, an imbalanced lock-on system, frame-rate hiccups and most worryingly the graphics: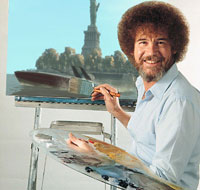 Did Bob Ross draw GTA4's trees?
"The depth-of-field blur effect is far too heavily applied to the multiplayer game. Everything that is more than 50 feet down the street from you starts to pixelate and distort strangely, as if filtered through a haze of tiny droplets of vegetable oil."
That is indeed something many people are confused about. In most screenshots we can see blurry, low-detail buildings (not just in the distance), as well as heavy distortion -- especially in areas of water, foliage and shadows -- resembling a quality known only from paintings. According to a recent Kotaku article, those distortion filters are intended to actually improve the game's visuals:
"I suspect there's a filter involved, something that gives the world a touch of artistry. [...] Jeronimo Barrera tells me that Rockstar loves its filters. It helps, he says, fool the eye, masks some of the imperfections that games, no matter how next-gen, will always have."
Whether this is for better or for worse and impacts the gameplay noticably, remains to be something players will have to decide for themselves when the game comes to stores later this month.