Two new GTA IV reviews have surfaced today. Official Xbox Magazine (US) gave the game a score of 9.5 and came to the following conclusion:
+ Wonderful environment with gajillions of great things to do.
+ Multiplayer is a deep, terrific addition to the series.
- Would be even better with a little editing: it starts slowly, has a few too many "filler" missions.
Xbox World 360 (UK) awarded it a score of 98%, the highest they've ever given out. Their verdict:
+ Oscar-worthy dialogue
+ unfeasibly rich gameworld
+ inspired mission design
Both articles are full of story and mission details (you have to finish at least 90 to conclude the storyline, and there are at least 10 moral choices leading to multiple endings), as well as achievement descriptions (like "Warm Coffee" for scoring a date), hilarious easter-eggs (YouTube parody "Elictrictit" has all videos flagged as inappropriate) and quotes (Gun shop guy: "Stay safe, stay Second Amendment."). So if you don't mind a few spoilers, be sure to give them a read.
As usual, we invite you to discuss the OXM review and the Xbox World 360 review at our forums.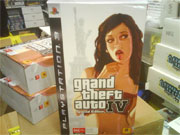 GTA IV Special Edition packshot
Unfortunately, the two French articles reported on yesterday turned out to be pre-reviews; most European publications are only now beginning to receive the release version of GTA IV for their in-depth reviews. Those that do are apparently being carefully watched by R*, according to an email published by videogaming247, even though the game hits stores in only less than a week. And how it will look like when it does, can be seen on some photos of the special edition an Australian retail store employee took.
And for those who don't like reading or staring at still pictures, there will be an exclusive sneak peak on G4 this Sunday at 12PM ET, showing actual game play footage for the first time.