GTA IV PC - "MMA10" Error
Posted by adamcs at 11:57. Site: GTA IV. Category: General
If you experience the following error when trying to run Grand Theft Auto IV on the PC...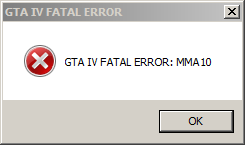 ...then sign out of Rockstar Social Club to get rid of it. This means you won't have access to multiplayer or Social Club TV, but it will allow you to play single player until R* corrects the issue.
UPDATE: A complete list of error codes can be found here.