GTA: London Information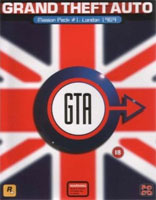 This is the first mission pack for Grand Theft Auto. This game is set, you guessed it right - in London, in the year 1969. First it was a mod for Grand Theft Auto, but in a flash of a muzzle it became one of the most popular mods for GTA there was, and then it became a published title. The 70s style gameplay was similar to the one in GTA, but it was still different. Although it contained only the London map, which was big enough for that time, the game was enjoyable - even differently to that of the original GrandTheftAuto.
GTA London was mission pack one, and because the game grew old and GTA2 came out, a free mission pack came out for GTA London (a mission pack to a mission pack) called GTA London 1969. This addon included new cars, missions and a new multiplayer map. Mission Pack #2 was then later released. Unfortunetly though, it came in at 7 megs, and at that time, a download of 7mb took a good night.
GTA London 1969 features:
Entire London - London Tower, Big Ben and all the other sites.
Over 20 NEW Different car types - suitable for the 70s.
Intelligently controlled Police, Fire, and Ambulance services.
1 - 4 player games over Network, Modem, and Serial link (null modem).
Even better Blood.
Working Public Transport.
Police forces ranging in aggression from complacent to homicidal lunatics with guns.
Hospitals, Banks, Strip Clubs, Parks, and Harbors.
NEW 70s style music.
Full 24-Bit color running in real-time.
3Dfx Compatibility.